Chuck's Screening Co.
Family owned and operated since 1991, the team at Chuck's Screening Co. has earned a solid reputation for providing friendly, reliable and cost effective expert screen repair services to the residents and businesses of Hollywood, FL and its surrounding areas.
Learn more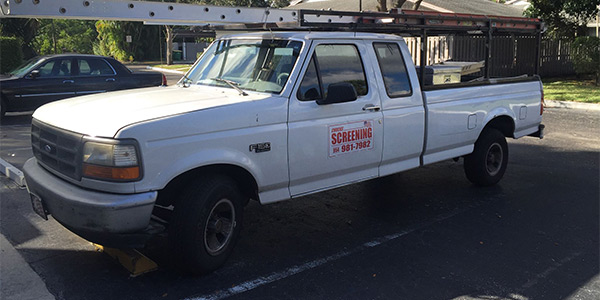 Pool Screen Repair in Hollywood, FL
After your family and friends, your residential or commercial property is likely one of the most important things in your life. That is why you need a qualified, reasonably priced and reliable screening company to make sure it is protected both day and night. Chuck's Screening Co. has been doing just that since 1991. As a locally owned and operated family business, we consider customer satisfaction our top priority, and promise to treat your property with the utmost respect when providing patio screen repair in Hollywood, FL. We have helped thousands of clients over the years, and cannot wait to serve you as well.
Here at Chuck's Screening Co., our team of highly skilled and experienced professionals specializes in a wide variety of services, including but not limited to replacing and repairing pool enclosure screens and patio screens, repairing damaged patio enclosures, reinforcing patio enclosures, replacing broken screws and bolts, installing pet screens, replacing dog doors, replacing privacy screens and so much more. We are fully licensed and insured, and proudly offer a one-year guarantee on all work completed. Here are just a few reasons why you should consider hiring Chuck's Screening Co. the next time you need high quality pool screen repair in Hollywood, FL:
We are a local, family-owned and operated small business in Hollywood, FL.
We provide screen repairs, replacements and much more.
Our business is fully licensed and insured.
We have been serving the greater Hollywood area for over 25 years now.
Our screen repair prices are among the best in town.
Areas Served
Proudly offering re-screening and screen repairs to Hollywood, FL, Broward County, FL and the following areas:
Ft. Lauderdale, FL
Pembroke Pines, FL
Hallandale, FL
Miramar, FL
Pompano Beach, FL
Parkland, FL
Coral Springs, FL
Sunrise, FL
West Palm Beach, FL
Port St Lucie, FL
Boynton Beach, FL
Boca Raton, FL